Groupage, daily routes
Partial truck/groupage transport, daily departures (Mondays to Fridays) both to and from for a number of routes in North and Central Italy, linking Biella with Milan, Bergamo, Como, Varese, Torino, Prato, Emilia Romagna and Veneto regions.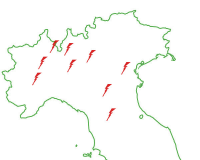 Dedicated transport
Dedicated transport, full load, nationwide. Different types of trucks are available.
Flawless service
Our national transport services are delivered with a fleet of owned vehicles driven exclusively by our employees, all experienced and professional drivers.

With its expertise, of our staff can help companies identify and select the most suitable solutions for transporting their goods according to their specific requirements.

Upon request we can include in our offer additional services such as insurance operations, cash on delivery, inventory and returns management.
Single point of contact for the customer
Through a reliable network of partners we offer transport service on international routes by land, air and sea, using the most appropriate departure and destination hubs.
We can assist our customers selecting for them the additional services they can require, such as the management of customs and administrative operations. We can serve as single point of contact.